Rotherham Hotel Ltd New Zealand
---
Support Your Country Hotels
---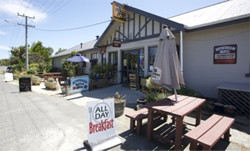 ---
Longing for a weekend break in rural North Canterbury or following the Alpine Pacific Triangle? Are you a keen fisherman or shooter and want to go salmon and trout fishing or hunt wild game in the Waiau River or Hurunui? Perhaps you're skiing at Mt Lyford? Or simply want to break your journey if you're en route to Hamner Springs or Kaikoura? Then come in and enjoy our famous Rotherham Hotel meal or a Latte.
Come down and have "a yarn" to Publican Keith and the friendly team, who have been providing legendary hospitality to patrons far and wide for the last 30 years...
---
Full Restaurant Accommodation
---
Rotherham has a reputation for good quality food, try some of our famous "Rotherham Hotel Special" signature dishes: a T-Bone steak, yummy Honey Chicken Salad or to-die-for Blue Cod meal? Our Kitchen is open 7 days a week until 9PM. Please see our online menus.
Rotherham has a variety of accommodation options, including 4 bedroom luxury house, Cosy 2 bedroom Cottage with sleep-out or one of our 7 Outdoor Cabins. Double and single rooms available, Full bathroom facilities, Lounge area; Laundry or Private living. Double rooms include television. Guest WIFI. Camping Available. The Rotherham warmly welcomes NZ Campervan Association Members.