Rotherham Hotel Ltd New Zealand
---
Support Your Country Hotels
---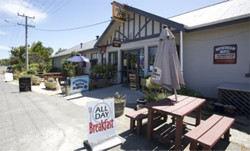 ---
The Rotherham Hotel is open for full Bar, Restaurant, Takeaway food and Accomodation. Please call first and give us notice on 03-3156373 to place your bookings, We do not use facebook or email to take orders at this stage. Support your local Country Hotels, and get out to see the countryside. With one of the best winter backdrops and just off the main highway, get a taste of real New Zeland rural life... Remember sign up for the tracing APP, wash your hands, STOP the spread of the C19 Virus. More details to come...
For more information please see the following resources:
For more details covid19.govt.nz
---
Full Restaurant Accommodation
---
Rotherham has a reputation for good quality food, try some of our famous Rotherham Hotel signature dishes: a T-Bone steak, yummy Honey Chicken Salad or to-die-for Blue Cod meal? Our Kitchen is open 7 days a week until 9PM. Please see our online menus.
Rotherham has a variety of accommodation options, including 4 bedroom luxury house, Cosy 2 bedroom Cottage with sleep-out or one of our 7 Outdoor Cabins. Double and single rooms available, Full bathroom facilities, Lounge area; Laundry or Private living. Double rooms include television. Guest WIFI. Camping Available. The Rotherham warmly welcomes NZ Campervan Association Members.