Rotherham Hotel Ltd New Zealand
---
Support Your Country Hotels
---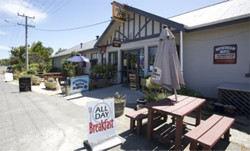 ---
Dear customers regrettfully we have had to close down all aspects of the Rotherham Hotel, including takeaway food and alcohol sales. We hope you and your families are all well and are following the government guidelines for a Level 4 lockdown as we all are and please look after eachother over the next 4 - 6 weeks, by being kind and understanding that this is not an easy time for anyone. The important aspects are to Stay at home, maintain your bubble, that is your self-isolation group so to STOP the spread of the C19 Virus. More details to come...
For more information please see the following resources:
For more details covid19.govt.nz
---
Full Restaurant Accommodation
---
Rotherham has a reputation for good quality food, try some of our famous Rotherham Hotel signature dishes: a T-Bone steak, yummy Honey Chicken Salad or to-die-for Blue Cod meal? Our Kitchen is open 7 days a week until 9PM. Please see our online menus.
Rotherham has a variety of accommodation options, including 4 bedroom luxury house, Cosy 2 bedroom Cottage with sleep-out or one of our 7 Outdoor Cabins. Double and single rooms available, Full bathroom facilities, Lounge area; Laundry or Private living. Double rooms include television. Guest WIFI. Camping Available. The Rotherham warmly welcomes NZ Campervan Association Members.